Debunking Disinformation: A Training Program for Czech Journalism Students
Become a Digital Sherlock
Date: June 28, 2019 – June 30, 2019
Location: Malé náměstí 459/11, New York University in Prague
Learn the latest tools and tactics for digital investigations and hoax busting from top experts in the field.
Through this workshop, 23 journalism students from the Czech Republic were able to learn the latest tools and tactics for digital investigations and hoax busting from top experts in the field.
This course provided essential professional skills that are currently desperately needed in domestic and international newsrooms and by other teams working on an analysis of online trends and behaviour.
The students were able to meet the digital Sherlocks who tracked down people responsible for shooting down flight MH17 over Eastern Ukraine. By using online accessible information, such as geolocation, Instagram, and discussion forums of Russian soldiers' girlfriends and wives, they have already made things difficult for both the Kremlin and the Islamic state. Although the so-called "fake news" has become today's mantra, effective defense exists in form of quality journalism and commitment.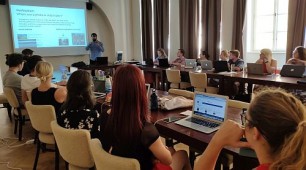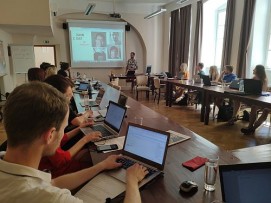 Student, Lukáš Hána, said, "Almost everyone has access to the internet today, but only few can use its potential. We have just learn how to get more out of it. This is gold!"
Through training in the latest online tools and techniques, the course provided future reporters, researchers, and other relevant practitioners with the means to effectively lead investigations in the digital space, recognize and effectively counter disinformation and propaganda and to expose inaccuracies.
Top local and foreign instructors Jan Boček and Youri van der Weide lead the 3-day intensive workshop. Youri is an independent open source investigator and trainer. He contributes to Quiztime, a Twitter community that seeks to spread knowledge about open source tools and techniques. Jan is a co-founder of the data journalism department in 2012 for the IHNED.cz news portal.Jan was awarded a journalism award in 2015 for his article "Russians against Russians: Country in Undeclared Civil War."
For updates, follow @fact_czech on Twitter or @factczech on Facebook. For further reading follow www.factczech.cz.
Support is provided by the U.S. Embassy in Prague.