Jan Urban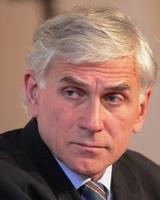 Jan Urban, who has recently worked on several projects in Iraq training journalists and working on building reconciliation measures through the reconstruction of cultural heritage sites, was one of the leading dissidents under the communist regime.
In 1974, he graduated with a degree in history and philosophy from Charles University. From then until 1989, Urban, forbidden by the communists to continue his academic career, worked as a schoolteacher and a manual laborer.
He was one of the founders of the Eastern European Information Agency, a dissident network. He also worked with underground newspapers and as a reporter for Radio Free Europe and the British Broadcasting Company. In November 1989, he helped found the Civic Forum, the movement that led to the eventual overthrow of the Communist regime in Czechoslovakia, and was placed in charge of its logistics and management.
He studied post-conflict societies in Central America and won two international human rights awards from Humanitas, San Francisco, in 1991 and Centro Demos in San Salvador in 1995. Urban also served as a war correspondent in Bosnia and Herzegovina from 1993 through 1996 and was the publisher of Transitions magazine from 1997 to 1999.
More recently, he has made two documentary films, one of them on the Kosovo conflict. He is the author of three books, two of them on the war in Bosnia and one on a major corruption case in the Czech Republic. He is currently working on a book of interviews with the founder of the People in Need Foundation, Simon Panek.